They don't call it "Colorful Colorado" for nothing – this state has so much to offer. With breathtaking scenery, a wide range of colors, and beautiful cities, it's no wonder why so many people are calling Colorado "home." Arvada is a perfect example of a city that's really exploded in recent years. We've seen a lot of development, growth, and change in our time as Arvada painters and we are proud to be the ones that have helped keep Arvada looking good. After all, Arvada is also where we call our "home."
Perhaps you're just moving to the Arvada area and are looking to start out with a new coat of paint. Or, maybe you've been in the neighborhood for quite some time and are just looking to update your house's look. Whether it's the interior or exterior of your home, our dedicated Arvada painters can help. No residential painting project is too large or too small.

Arvada Painters
For Colorado Commercial and Residential Painting, the Arvada, CO area is near and dear to our heart. With our first and main office located in the Celery Capital of the World, we love to work with all the residents and businesses on improving their homes and properties. Our dedicated team of Arvada painters will make sure your property is looking its absolute best.
Have you ever heard the story of the "Retiring Carpenter"?
It's a story of a carpenter who had been building houses for years upon years until he finally decided he'd call it quits. He decided it was time that he live a more leisurely life with his family. Upon telling his employer/contractor of his plans to retire, he was asked to do build just one more house as a favor to his employer. The carpenter agreed, but you could tell that his heart was not in the work he was doing. His workmanship was subpar, his materials were not professional grade, and the house just wasn't a great reflection of a dedicated career.
After the carpenter was finished with his last house, he had his employer come to inspect the house. The employer then gave the keys to the house to the carpenter and told him it was his to live in. The carpenter then felt embarrassed, ashamed, and disappointed in himself, knowing that he could have (and would have) given more to building the house had he known it was for him and his family.
There are a lot of morals to this story, but why did we feel it was appropriate to share here?
It's because we feel that we must do everything with passion and love and as if we were doing everything for ourselves  – no matter who we're doing it for.
Arvada is our city.
Our homes and business are here. Every paint job – whether it's residential or commercial – is done with the utmost passion, care, respect, and detail. We are dedicated to putting in nothing less than our best for every project, inside and out.
Of course, this isn't just the case with Arvada – it's with all of our Colorado paint projects. It's our promise to ourselves and our home state.
Arvada Residential Painting Professionals
When our Arvada neighbors need the interior or exterior of their home painted, they can turn to their hometown team. We have already taken to our home streets and accomplished some beautiful projects, ones that you can see right here for yourself!
Interior Home Painting
The interior of your home says a lot about you. That is why it is important to always keep up the appearance with regular refreshes in various rooms.
We've done all sorts of interior painting projects, including:
Bathrooms
Studios/Offices
Bedrooms
Garages
Kitchens
If we had to choose one room we love in particular, it is, of course, the kitchen.
The kitchen is much more than a simple room where food is prepared – it's the heart and soul of your home. Your kitchen makes one of the most lasting impressions and if it's been a while since you've let anyone into your kitchen, consider getting your kitchen painted. The color of the room speaks volumes and certain colors can be more inviting to the kitchen area than other colors. 
Recently, we completed a stunning kitchen in Arvada that you can see below. This kitchen now sports a shimmering alabaster coat, which is a great improvement from the previous dark brown look we walked in on.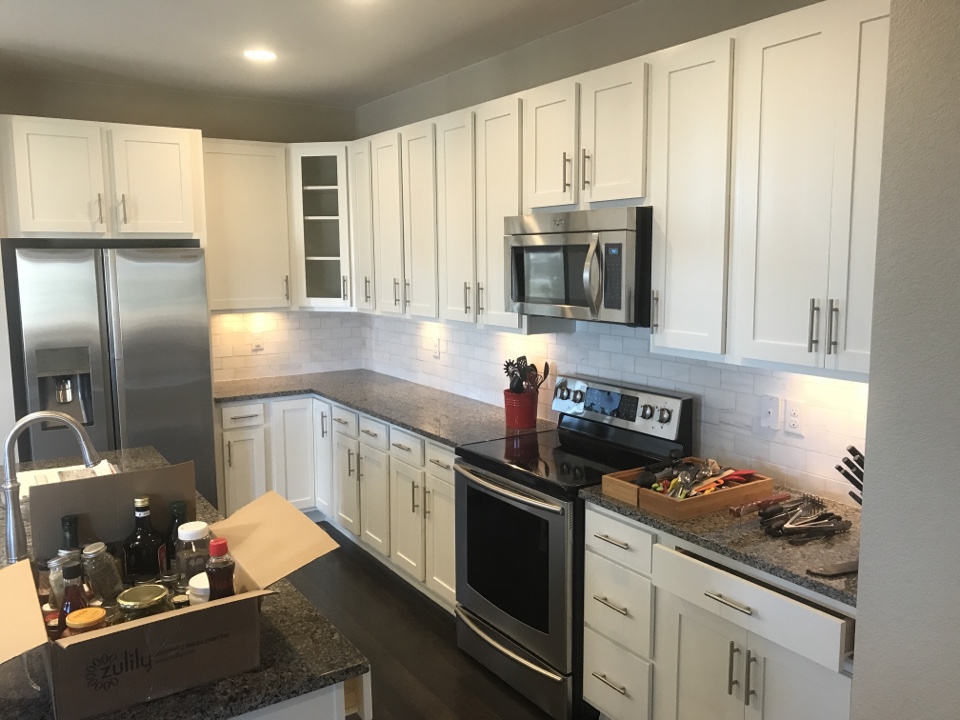 If you are looking to spruce up your kitchen we would love to speak with you about your ideas and dreams, and even color palettes! You may also have questions about interior painting – if that's the case, we have answers! Anything that's not in that blog, please just give us a call and we are happy to answer any of your questions.
Exterior Home Painting
Colorado weather can be harsh on the exterior of your home. If you're looking to update your home's exterior look or even just touch up a few spots, our Arvada team of painting professionals are just down the street. We're experienced in knowing how to deal with Colorado's extreme elements, old houses, new houses, and can give any tips on color choices you may be stuck between. Anything from pressure washing to a full exterior painting, we will take care of the outside of your home here in the Arvada area.
Recently, our team took to the Stanley Lake region of Arvada and completed a gorgeous exterior. The paint that the owners had us use really complements the previously-existing brick so nicely!
We may have expanded to Arvada and other areas since first opening our office in Niwot. However, we know the area very well and will always call Arvada our home. We've been operating in all areas around Arvada since 1983.
If you want to trust a team with painting the interior and/or exterior of your home then you know who to call. Whether you live right here in Arvada, or you reside in Denver or even Boulder, you can count on our Colorado painting team.