Award Winning Painters Working For You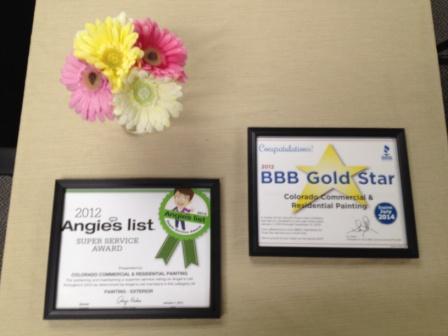 Back-to-Back Angie's List Super Service Award Winner
Back-to-Back Better Business Bureau Gold Star Painting Company Winner
Colorado Commercial & Residential Painting has done it again! They continue to uphold their high standards for painting that has enabled them to be back-to-back award recipients of both the Angie's List Super Service Award and the Better Business Bureau's Gold Star Award. Angie's List Super Service Award, a leading national honor, recognizes excellence among service providers. The Super Service Award recognizes industry leaders. Each year, less than 5% of thousands of businesses  earn this prestigious Super Service Award.
These awards honor excellence among service and health providers who maintain a superior service record. The awards give clients and prospects the confidence they need to invest in your services, and members search for it when making hiring decisions. The Super Service Award is based on businesses overall ratings and reviews from November 1st thru October 31st of the next year and winners are notified in December.
Our company is honored to have received these awards and we look forward to continuing our high quality and standard of service for you Colorado!