Colorado Commercial & Residential Painting Offers Industrial Roof Painting Services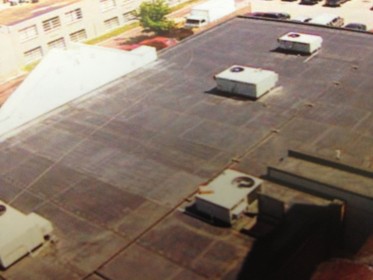 The ulra-violet radiation here in the Mile High city bakes out the roofing systems natural oils which negatively impacts the flexibility and weatherproofing protection causing cracking, splitting and blistering problems to name a few.  Colorado Commercial & Residential Painting is proud to offer the several roof painting services including the Uniflex elastomeric coating system which provides a highly reflective white finish which reduces thermal shock, movement and cooling costs in addition to long term waterproofing protection.  We offer several elastomeric coating systems depending upon your budget and needs such as coatings for new and aged built-up, modified & granular cap sheets, and aged single-ply membranes.
The Uniflex SPE Coating System consists of a light gray acrylic base coat which has been formulated specifically to adhere to aged CSPE – Hypalon and EPDM (Ethylene Propylene) membranes, followed by the Uniflex White Elastomeric coating.
Some of the benefits seen from the application of a the premium Uniflex Industrial Roof Coatings system are:
Reducing energy costs – Up to 90% reflectivity
Reducing roof stress – Lightweight 2.5 oz./sf
Remains elastic in extreme temperatures – Flexible
No seams and no leaks – Monolithic and non-penetrating
Eliminates costly tear off, disposal costs and overlays – Economical
Proven, long-term performance with no-prorated warranty
Call for your free on-site needs analysis and estimate at (303) 574-1740!