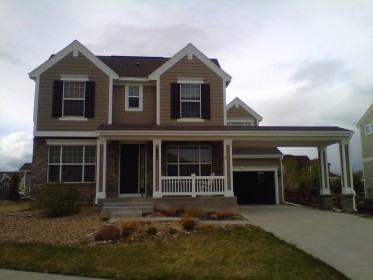 HOA and Multi-Family Painting: Suggestions on how to get your exterior painting project approved
Most HOA's in the Denver Metro area that we deal with are wonderful to work with. You do however occasionally get some that are more difficult, some that take their time in responding back to you, or are very strict with the color approval process.
One of our customers this summer had his HOA approach him after we recently painted his home to tell him that he didn't get proper written approval, and he needed to repaint his home again once his design review committee approved the new colors. He told his HOA he didn't know about the approval process and wasn't going to change the color and couldn't afford the additional expense of repainting his home – even if it was at a discounted rate the second time around. The customer had just purchased the home and told them he wasn't too concerned about their threat to put a lein on their home. His logic was, he doesn't plan on selling his home within the next eight years or so, if they put a lein on his house by the time he goes to sell it, it will be due for a new paint job anyway.
I had the opportunity to experience first-hand a potential problem dealing with our own HOA when it came time to paint the exterior of our home this fall. Let me tell you, it could have been a real nightmare if we didn't have our "ducks in a row". I contacted our HOA early summer and explained that we wanted to paint our home by early fall. They directed me to their website where I was to print out a form, and to request the color choices with paint swatches attached to it. Once I filled out the form properly and faxed it back to them, it would go to the board for approval. I also mailed the original and made a copy of it. I explained in detail the paint manufacturer, paint color, product quality, sheen, and location of each color to be applied. After several weeks I received my painting approval form in the mail and our custom designed colors had been approved and signed off by one of the board members. Weeks later, we repainted our home, and within a week after we painted our home we received a notice stating that we did not get the proper approval and would be fined for painting our home without proper approval. They also stated that we would need to resubmit colors to be approved. After further review they decided that I was not in the wrong and that the threat and fine would then be lifted. I'm not sure where the communication breakdown occurred in their organization but was I glad that I went through the proper channels and had a copy of the board member's signed approval!
Tips on how to work with your HOA
First, if you're like me, you need to hunt down your monthly bill from your HOA and contact the management company that handles the maintenance of homes in your HOA community. Once you find the number, call them and explain your painting project and ask them for the proper protocol to get approval to paint your home and how long to expect this process to take. Also ask them to direct you to the website or if they can send you any necessary forms to be completed for the approval process and if they need any of the color samples on paper ("paint chips" or "draw-downs") acquired from the paint store themselves in addition to the names and if the colors you have chosen need to be applied to the home or not? Some HOA's even require more than one sample set of colors. Ask the HOA if they would like the paint samples to be applied to the home, ask where at and how big of an area they would like you to paint. For example they may say, "Apply a one foot by one foot section of each color to the garage door and use blue tape and write down next to the color applied if the color is the trim, body, and accent (punch color e.g. front door, shutters, additional garage door color….)".
I have found that it can take anywhere from a couple weeks to a month or two to get your color selection approved. It depends on how busy and well staffed the property management team is, if the colors you choose are the same colors you currently have, ones chosen from a new or existing color palette of HOA approved colors, what the colors of your nearby neighbors homes are or if the new colors you have chosen fit into their plans for the neighborhood or not.  I have also seen customers choose a color that they love and the HOA feels the color looks too similar to a nearby neighbors' house.
Some HOA's have little to no guidelines to adhere to. In these cases I'm often suggesting color schemes for our clients and ensuring they don't upset their neighbors with colors that are too bold or too similar to a nearby neighbors' home.  Some folks who may have recently left a beautiful Victorian home on the East Coast with a multitude of very bright colors need to be coached that it wouldn't fit in with the earth tone theme in their new Colorado neighborhood for instance.
As part of our service, we like to find out about the HOA requirements and help with our free color consultation. We typically look at the color of the roof, and any stone or accents on or near the home in addition to some of the ideas the customer had in mind. We then look at a variety of paint manufacturer color palettes and samples from their "fan decks" of colors and select a color. Sometimes it entails also taking a tour of other homes in the area or viewing our portfolio of homes painted to help steer the customer in the right direction. We also have two professional decorators and color consultants that work with us and perform this service on a full time basis.
Once we narrow the color schemes down, we like to place samples on the home to see how the customer likes them. When we are both certain of the color selection, we then have the customer submit the colors to the HOA for review and approval.
It's really a rather simple process – especially when you consider our average paint job in Colorado is about every 8-10 years.  Cheers and happy painting!