How Often Should You Paint Your House Exterior?
When it comes to knowing how often should you paint your house exterior, most people  know to look for the obvious signs of bubbling and chipping. But many are surprised to learn these telltale signs aren't the only clues as to how often you should paint your house exterior. There are many factors that come into play such as the material your house is constructed with, the climate where you live, and the age of your house.
Average Lengths of Time for House Exterior Painting
How often should you paint your house exterior?  It's impossible to simply provide an all-encompassing average length of time needed for a fresh coat of paint on a house exterior. However, what we can do is analyze some of the popular types of housing exteriors, and some of their average ranges for a re-painting.
Wood Siding: We typically recommend wood siding be re-painted every 3-5 years. Climate plays a huge factor in this, but for Colorado exterior residential painting, this is a good range to go by.
Aluminum Siding: We find that aluminum siding can weather the elements a bit longer than wood, but it's a fairly similar time period for when you should re-paint. Our recommendations are every 4-6 years for painting exterior aluminum siding in Colorado.
Painted Brick: Well-painted brick lasts longer than most other options. In Colorado, we recommend re-painting your brick siding every 12-15 years. If you are just using brick that's not painted, this requires very little maintenance.
Stucco: Stucco is slightly more resilient than painted wood and aluminum, but in Colorado, we recommend 5-6 years for a re-painting job.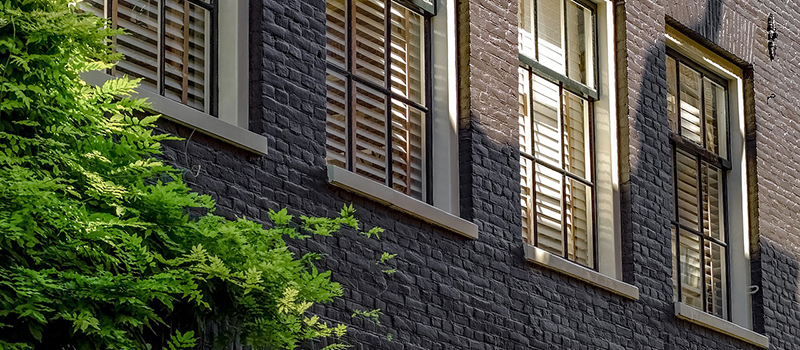 What Factors Most into the Longevity of Exterior Painting
While every house has a different story and it's a combination of factors, below is the list of factors that typically most affect how long your paint will last in Colorado.
Climate: Let's face it, the weather in Colorado is very volatile. While we may not receive much rain, heavy snowfall and over 300 days of sunshine beating down on your house's exterior ultimately cause some wear and tear.
Last Paint Job: You really do get what you pay for when it comes to exterior house painting. From the quality of the paint used to the number of coats, a quality exterior residential painting job will always outlast an inferior one.
Maintenance: Have you kept up your siding when it was damaged? From termites to mold, there are a number of problems that can drastically decrease the life of your paint on the outside of your house. Always try to take care of your home as best you can for your paint to last longer.
Signs it Could Be Time For an Exterior Re-Paint
Wood Damage: Our buildings do so well keeping out the elements that it's easy to think that they're invincible. But all it takes is a little wood rot to prove otherwise. The main symptom is a soft spot in your building's wood siding. This is a sign of excess water exposure, which happens when paint gets worn down by day-to-day exposure. When you start seeing these spots, it's time to shop for painters.
Fading Paint: When your home's beautiful shade of red becomes a sickly salmon, it's obvious you need to paint. What isn't always obvious, however, is where to look for signs of fading. Monitor the sides of your building that get the most sun exposure. Those areas tend to provide the first head's up that new paint should be in your near future.
Splitting Caulk: A home or building's caulk is important to its structural integrity. It seals up all the little cracks that can let in the elements, then it's covered in a layer of paint. By the time your caulk is showing signs of damage, you can rest assured that paint has worn away. If your caulk is splitting around windows or is brittle to the touch, prepare to replace it and cover it up with a good layer of paint.
If you're in need of exterior painting services, we are one of the best choices in the state. We're an honest company with over 35 years serving the Colorado community. We will make sure your house gets painted right so you can maximize the amount of time before a re-paint. If you're curious about your house and how often you should paint the exterior, talk to one of our specialists today.