A new paint job is usually a top priority when a company needs to upgrade their interior space. Painting is a cost-effective way to transform the look and feel of a commercial space without investing a large amount of money in a decor overhaul. However, it's important to shop around for quality paint services. Here's how to estimate interior commercial paint jobs to help save overall while still getting a quality finished product. 
Pricing a paint job can be tricky because you need to keep business owners happy, but you also need to ensure that you're covering expenses incurred and you're making enough profit to keep your business in good standing.
Pricing an Interior Commercial Paint Job
There are two methods of pricing commercial paint jobs: guesstimating and measuring. We'll look at each of these methods and what factors are involved.
In general, your pricing will always need to take the following 4 elements into account:
Labor

Materials

Overheads

Profit
Methods of Pricing - Guesstimating
Guesstimation is a good method for pricing small commercial painting projects. But medium to large size projects should always be measured to give you a more accurate estimate. 
How Do You Use Guesstimating?
You use your experience and knowledge to estimate how many days it's going to take to complete the project and what materials are required. 
Here's the 4 step process for how to estimate interior commercial painting by guesstimate. 

1. Calculate the number of days
With an existing building, you can visit the site to evaluate the work involved. You can do the same with a new build, as well. If not, the only way is to look at contract drawings. 
2. Multiply this by your daily painter charge
Second, the daily painter charge is usually made up of three elements:
Primary labor costs - how much you charge per hour 

Company overhead and profit margin - add 30 - 35% to cover your company's indirect overheads and profit. (Use the lower percentage rate if you want to keep your price competitive and secure the project)

Project direct overheads - these vary from project to project and cover things like gas, parking, tools, etc. 
3. Calculate your paint costs - you can either:
Add a percentage onto the 'number of days' x 'daily painter charge' value - 15% for cheaper materials or 30-50% for high spec materials, OR

Estimate the amount of paint you'll need and multiply by the purchase cost.
4. This will give you the total price.
Fourth, as mentioned, guesstimating is fine for small commercial projects, but not advised for medium-to-large size commercial painting contracts, complex projects or projects with non-standard specifications. 
Be aware that the bigger the project the more complex. Complex projects might also have things like non-standard wall heights, or the business may want to use expensive paints. 
If you guesstimate you could be seriously off in your calculations, either far too high or far too low. 
5. Let's look at an example.
We will be guesstimating the total project cost for this small office space.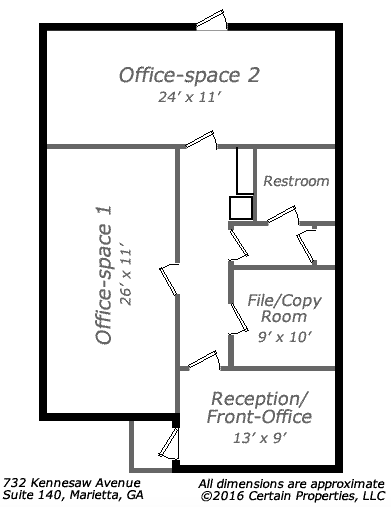 Number of days
Calculate labor 
The billable rate for a painter on this straightforward interior repaint is X$/hour

 (X number of painters) X (the billable rate) X (number of days) = total labor cost
Calculate Material Cost
An experienced estimator can look at a room and accurately guesstimate, to the gallon, how much paint is needed to complete the job (this will Include walls, trim, and ceilings) 

We will assume that all of the walls are 8 feet in height.

Office 1,2,3,4 and Reception will require 2 gallons of paint.

The conference will require 3 gallons of paint

Hallways will require 3 gallons of paint

The doors (front and back) will require 3 gallons of paint

Both the women's and men's restrooms in addition to the file/network room are excluded from the customer's scope 

Total gallons of paint needed = (19-20 gallons) X (cost/gallon of quality paint)  
Methods of Pricing - Measuring
Measuring is the only method you should use for pricing medium to large commercial painting projects. You can calculate the amount of paint needed and the cost of labor once you know the size of the area. 
Here's the 5 step process for how to estimate interior commercial painting by measuring. 
Step 1 - Calculate the size of the area
Multiply the height by the length of each wall. Then, add the figures together to get the total square footage. From this, subtract the total square footage of windows and doors to get the total square footage to be painted.
Step 2 - Determine the  amount of paint required
In general, one gallon of paint covers about 400 square feet of smooth surface and 300 square feet of a textured surface. Divide the total square footage by either 400 or 300 to get the total number of gallons of paint required. If two coats of paint are needed you'll need to double the amount of paint required.
Step 3 - Calculate the total cost for materials
Premium-quality paint typically costs between around $35 - $50 per gallon. While you will save money by using cheaper paint, it won't have the finish or durability of a premium-quality paint. Multiply the total gallons of paint by the cost per gallon to get the total price for the paint. 
You may also want to add on the cost of brushes, rollers, paint trays, and drop cloths to your quote to get the total cost for materials.
Step 4 - Calculate labor cost
Determine how many hours a painter will need for the job to calculate the labor costs. In general, a painter covers approximately 150 - 200 square feet an hour. You should include prep tasks such as:
You should also need to factor in extra hours for things like:
Multiply the number of hours for the job by the hourly painter rate (the hourly painter rate includes primary labor, overheads, direct expenses, and profit margin, etc.) to get the total amount of labor costs.
Step 5 - Calculating the final estimate
Add the costs for materials and labor together to get the final estimate for an interior commercial painting project.
When pricing bigger commercial painting jobs you want to remember that:
The work will be more challenging than smaller commercial or residential jobs, so always keep your prices at a professional and competitive level;

if you bid low they might not think your work is any good.

If the company has more work for you later it will be harder to bump up your prices.

Larger businesses or companies usually have deeper pockets compared to residential.
With any interior commercial painting job, it's best not to cut corners 
Colorado Commercial Painting has been providing interior commercial painting services for over 30 years. Please get in touch with us today if you'd like to know more. We also offer free estimates.