Professional Painting Services Denver
Commercial & Residential
Colorado Commercial and Residential Painting provides top-level painting services Denver and surrounding areas for residential homes and commercial businesses. Our highly rated paint services offer quality care and trustworthy execution. For our customers, we extend our we offer only the highest degree of professionalism, responsiveness, respect, and integrity.
Our Denver paint company is an EPA Lead Certified Renovator Firm we've provided paint jobs to our community since 1983. We work on projects of all sizes and scopes, including graffiti coverage, weather protection for exterior paint, detailed service for interior paint. Further, we uphold city requirements for commercial painting and maintain aesthetics according to your specifications and needs. Our company provides free estimates, and since we're conveniently located in Arvada and Niwot, we have the ability to serve all of Denver's surrounding suburbs.
Our Residential Denver Painting Services Guarantee
We believe in integrity at the core of all Denver painting services we fulfill. This is why Colorado Commercial and Residential Painting offers a 5-year no exclusions warranty for residential painting projects.
Exterior – Attract better business with a professionally painted exterior. We service different building designs and textures, including brick, siding, stucco, concrete, and more. We provide initial assessments and estimations, safety plans, painting preparations, and constant job supervision for top-level Denver commercial paint service. Learn more
Interior – Give your business a comfortable and clean look. We help transform Denver's commercial spaces into environments that are inviting, fresh, and cohesive to allow for better business. If you're an old office space, we capture the essence of Denver's most historical vibes and sites, while still upgrading the overall mood. Learn more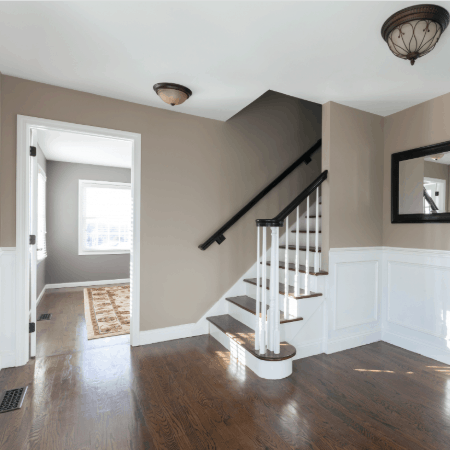 Exterior – Beautify your home and protect it from damage from the Denver sun with a stunning paint job that lasts. We provide residential exterior painting services in Denver to homes with siding, brick, concrete, and more. We also offer painting services for garage doors, front doors, detached garages or pool houses. Learn more
Interior– Customize your indoor space with a color that suits you and your overall decor. A residential interior paint job in Denver can transform your space to create cohesion, connectivity from room to room, and continuity throughout your Colorado home. Upgrade your homes' interior. Learn more
Apartments
Condos
Commercial Buildings
Homeowners Associations
Townhouses
Industrial Buildings
Our BBB A+ Rated painting services Denver extend beyond newly built homes and offices. We also offer a wide range of paint projects for office, work space, warehouse, remodels and renovations, fixes for DIY projects, etc. We also offer touch-ups for your Denver homes' siding and exterior spaces like garage doors, front doors, secondary homes, detached pool houses, basements, and much more.
Experienced Denver Painting Company
Colorado Painting continues to uphold trustworthy customer care and quality Denver painting services. With a solid 5-star rating on Google, you can rest assured that your paint job will be done right each and every time. As an experience painting company, we continue to strive for work that exemplifies hard work and dedication. Through our painting services Denver, we can ensure:
Punctuality
Quality Care
Professionalism
Quality Product
Enlisting a trusted Denver painting company can help you update your space and add value to the appearance of exteriors and interiors. We have a wide span of knowledge in both commercial and residential painting services in Denver and can provide a quote for your needs. Please contact us directly at (303) 574-1740.
Stick with the pros.  We have spent over 30 years completing painting projects that the community loves. We would love to hear from you at (303) 574-1740.