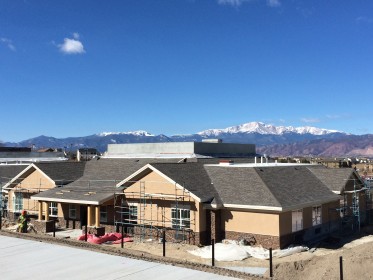 Retirement Community Painting
Ground up Retirement Community Homes Project
On Wednesday, August 21st, 2013 New Dawn Memory Care broke ground at their Colorado Springs, Colorado location and is scheduled to open early Spring 2014. They're award winning design consists of three cottages with 16 private apartments with private bathrooms. They're unique program for dementia related behaviors includes; 1:4 staffing ratio, nurses on site around the clock, medical director and other health care professionals making they're residential environment the perfect fit for those struggling with dementia. New Dawn Memory Care has locations in Colorado, Arizona and Virginia.
Retirement Community Painting can be quite a challenge with all the detailed trim work on the interior, multiple accent colors, a variety of exterior substrates to protect such as stone work, stucco, roofing and stain work.
We are completing this beautiful ground up Retirement Community Painting project in Colorado Springs where you have a beautiful background view of the spectacular Pike's Pike. This project involves the interior and exterior painting of three buildings in Colorado Springs. In addition to the exterior painting of the fiber cement boards, it involves fireproofing and staining of the exterior timbers for these very nice retirement community homes.