Even for Colorado Commercial Painting, one million square feet of commercial space is no joke. For a company like Amazon this is just another big step in the grand scheme.  When Amazon announced it would be landing in Aurora with a massive fulfillment center, we knew we had to jump on the chance to get involved.  Thanks to our reputation as commercial painters in Colorado we are now joining the build!  We won't be painting the whole thing, but we will be providing specialty painting services for the roof deck and other key aspects of the facility!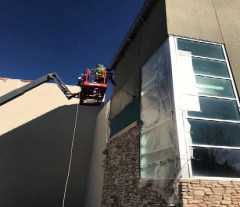 Colorado Commercial Painting
With the Amazon space finally taking shape in the form of a monster of a concrete structure, the clock is ticking.  With the fulfillment center set to open by late summer we are ready to get in there and add some help to this massive concrete commercial building project.  The Colorado Commercial and Residential Painting team has already started to get their hands dirty on this massive project.
Trusted Painting Experts
Our mission to deliver for Amazon is only getting started. We are hoping to keep you updated here on our blog as we continue to do work on the facility.
Our expert team is trusted by the contractors that we are partnered with, so you can rest assured we can do the job on your commercial structure as well.
Colorado Commercial Painting Here in the Denver Metro
Whether it is this facility in Aurora or other commercial spaces from Boulder to Denver, we know you will be pleased with our team and capabilities.
If you want to see what our happy customers are saying check out our reviews! For more info on the Amazon facility check out this great article from the Denver Business Journal.
We would love to help your exterior and interior commercial painting project come to life, give us a call today 303-574-1740 for a free estimate!