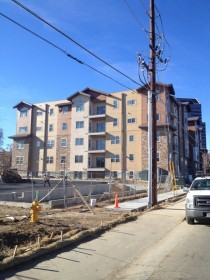 Commercial Painters
Our commercial painters put the finishing touches to the interior and exterior painting at the Peregrine Place apartment community conveniently located on Mississippi Avenue across from the Infinity Rugby Park which has a 83% Walkability Rating.
When our commercial painters are painting apartment complexes, we are often

 under the microscope by a myriad of individuals, so ensuring quality and creating and implementing a written communication plan is vitally important to keep all parties satisfied.  

This complex has a variety of beautiful earth tones throughout the exterior; including stucco and siding. The colors that were chosen to blend in nicely with the environment, which gives it a sense of style and sophistication.  The Peregrine Place apartment community is located in Denver midway between Downtown Denver and the Denver Tech Center. As the Trulia web site mentions "these distinctive interiors will include: full-size washer/dryer, stainless steel appliances, complimentary, secure Wi-Fi, dramatic vaulted ceilings on top floors, 9 ft ceilings on all other floors, large windows to maximize views and light, elegant quartz countert

ops, decorative tile kitchen back splashes, exquisite cabinetry, satin nickel pulls & under cabinet lighting and balconies/decks in select homes."  
Although our company specializes in commercial re-painting projects, we have performed many ground-up painting projects for contractors throughout the years. We have been fortunate enough to be able to carefully select the business partners we choose to do business with and have come to realize that there are only so many qualified commercial painters available – especially in a tight labor market, so we must be selective in choosing our customer base.  Our company is looking for customers that have values consistent with ours, like treating others the way you want to be treated ("The Golden Rule").
If you or someone you know has a large commercial painting project, and is looking for commercial painters that are fair, ethical and conscientious please consider Colorado Commercial .
Call now at (303) 574-1740!