Spring is the Perfect Time for Exterior Painting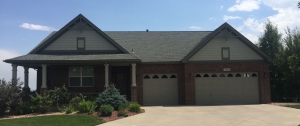 Here at Colorado Commercial & Residential Painting, we understand that as Spring settles into the Denver, CO region your home may be looking for a little refresh to match the budding trees and blooming flowers.
When it comes to adding a little shine to your property, nothing says hello to the new season like a fresh coat of paint. But, for some, before you can go about splashing some fresh curb appeal on to your home you must pass approval by a Homeowners Association (HOA).
So, just how can you maximize your efficiency and get approval in a quick and painless manner?
To get started you should always reach out to your HOA property manager first.  They will be the gatekeeper in your journey to achieving success.
Propose your plans to the property manager in detail and then ask them to give you a time frame on the entire approval process. Learning as much as you can about limitations and rules will help you avoid setbacks and keep you on track to hit deadlines and get the job done fast.
Using the lists of approved exterior paints and colors, make sure you get the go ahead before falling in love with a specific idea. Pushback can sometimes be common, so it helps to have flexibility when working to achieve HOA approval.
Finding the Perfect Approved Color
Keeping in mind that an exterior painting in Colorado last roughly 8 to 10 years, it is important to pick a color that is both approved by the HOA and your personal interests.
Most HOA's will have a sample of colors that are already approved mostly based on other homes in the neighborhood.
Here at Colorado Painting, we always can provide suggestions based on what we see other homes implementing as accent colors or main coats. We have an extensive history with many HOA's, so chances are we have colors in mind that we know will be a hit with both the association and your household.
Getting Started
Once you have worked through the process with the property manager and the entire HOA, we can give you a free estimate.
Our Niwot and Arvada, CO based team is well versed in the entire region, from Denver to Boulder and everywhere in between. If you are ready to add a splash of color to your home give us a call at (303) 574-1740 or visit us at our new website.
Springtime is full of vibrant colors, so there is no better time to match your exterior and interior paint with the vibes of the season.
We look forward to hearing back and helping everyone get HOA approval across Colorado!