We understand that having a crew come into your home to complete some interior painting can raise a lot of questions. We've gathered some of our customers most common ones and answered them here.

Common Interior Painting Questions
1. I'm getting new flooring, should painting be first?
We are happy to follow your own desired sequencing, but honestly painting is considered a finish trade and we prefer to be the last contractors in. Flooring installations in our experience cause more damage to fresh paint, especially along floorboards, and often require a lot of touch ups which your flooring contractor will not complete. Part of our everyday process is to protect your floor and surrounding areas from any paint and we would handle your new flooring with that same attention to detail.
2. What part of my home will you start with first?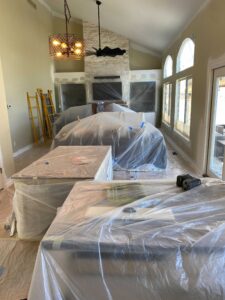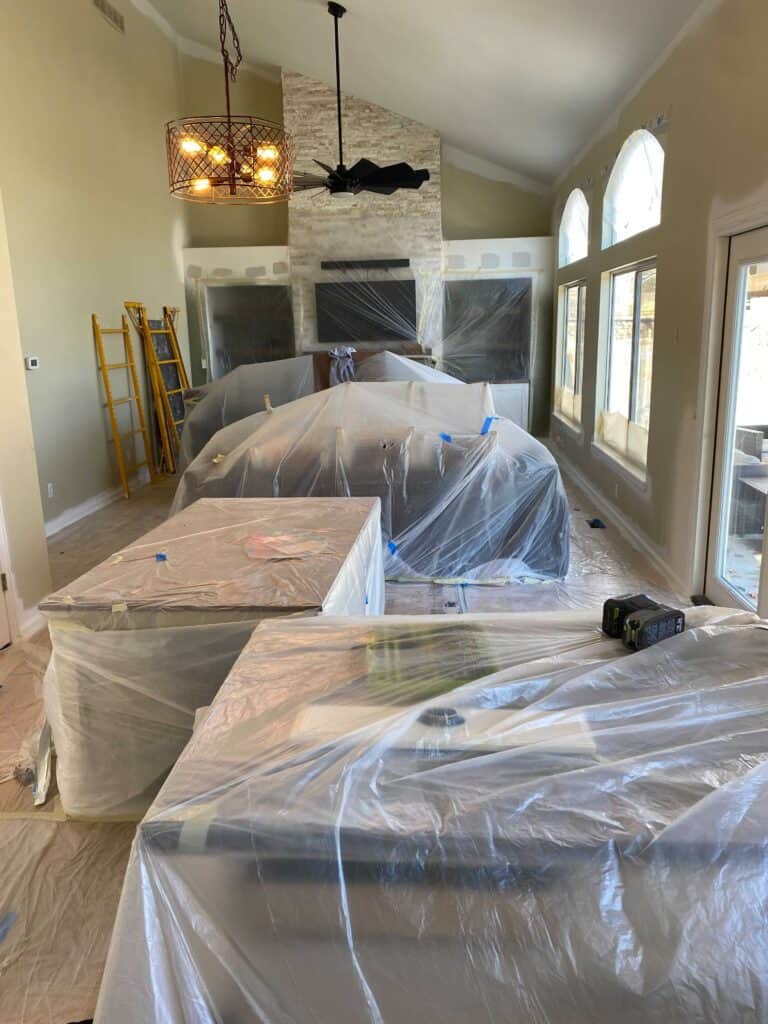 Typically, we like to work from the top to the bottom. If you are getting a full repaint, we would start on the top floor and work our way down to the basement. Ceilings usually get painted first, then trim, followed by the walls. However, sequencing is handled per job and we are happy to work with you on what sequencing works best. This can be discussed prior to your job start but is typically done the day of your job kick off.
3. How clean does the house need to be before painting starts?
We ask that you move all furniture away from the walls and gather them as tightly together in the middle so that we can cover and protect them.  If you start to move your furniture and notice a bit of dust build up along floorboards, trim or along the walls go ahead and wipe those down for us. That being said, don't stress about having a squeaky clean house, just do your best to help us out when you see an opportunity.
4. Do we really need to take all our pictures off the wall?
Yes. We ask that you take everything off your walls prior to us arriving on site. You can leave the hook or nail if you plan to hang items back in their original spot.  Remove hooks if you want us to fill the hole and paint over it.
5. Do our curtains and blinds need to be removed?
Yes, everything should be removed from the areas that we are painting. If you need assistance, let us know so we can plan accordingly. We are happy to help for a nominal fee.
6. If I'm having my cabinets painted, do I really need to remove everything inside? 
Yes, paint and food are not a good combination. We ask that you remove everything and gather it together so that we can protect it using drop clothes and plastic.
7. Do switch plates need to be removed?
If you are doing a color change then the switch plate covers should be removed. Luckily, this is part of our process and we will complete that for you.

8. Does hardware have to come off of doors?
We typically tape and mask around existing hardware. If you are replacing the hardware, then we can remove the existing for you.
9. Can I use my kitchen during the project?
We try not to be intrusive but there's no way around it. Your home will become a construction site and there will be a disruption to your life while we are in there.  With that in mind you are always welcome to use your kitchen as needed.
10. Do you clean the house when you are done?
We broom clean and wipe down surfaces when we are done, however paint particulates and dust that are in the air from the project will continue to settle for a couple days...in particular, you may notice on horizontal surfaces like floors, countertops, handrails, tables, toilets etc. While we try out best to leave your home as clean as we can, after any size interior project you will likely need to wipe down or vacuum additional areas.
Please note, paint can take an additional day or so (more for cabinets) to fully cure, so if you notice a 'gritty' feeling on any freshly painted horizontal surfaces, it is likely that it caught some of those particultes and can be easily cleaned by using a damp cloth with water or Windex, no abrasive cleaners!
For any other questions or to get a FREE ESTIMATE Contact us HERE