As time passes, the condition of your home's walls will start to lose its luster and you may start noticing more signs of daily wear and tear. Paint is great for increasing the overall look, feel, and value of your home, but it doesn't last forever. There are several different items that will affect the overall look of the walls like, holes from hanging pictures, scratches and knicks from furniture, scruffs in high traffic areas, or even how much the sun hits the wall. At times, it may make sense to simply touch up these small areas but in others, it's usually best to hire a professional painter to repaint the entire wall or area.
Paint and its sheen fades and ages with time, especially based on how much traffic and sun that area sees within your home. While it seems like it would make sense to just touch-ups areas that aren't up to your liking, you need to consider a few factors before doing so like, the age of paint, type of wall finish, the sheen, and size of the spot.
When Should I Touch Up?
Before you start thinking you need to go around your home and touch up a handful of knicks and scratches, start by trying to clean these areas. Satin, Egg-Shell and Semi-gloss sheens should all be durable enough for you to try scrubbing your wall and will likely help clean up the area.
The next thing to consider is how long ago was this area painted? The longer it's been, the more likely you will see the difference in sheen when trying to touch up. This is especially true for higher gloss paint sheens. Flat paint is the easiest to touch up but least durable, so it usually requires more touch-ups than some other paint sheens. That being said, if you painted under a year ago, you shouldn't have any issues doing touch-ups!
Things to remember when touching up paint:
Make sure to buy the same paint brand, sheen, and color.
Stir paint thoroughly especially if you are using old paint cans you have stored.
Repair any damage and let it completely dry before priming and then painting.
A thin coat of paint applied using a "feathering technique" will likely blend better and be less noticeable than a thick glob of paint.
Keep in mind that it may be difficult to blend the new paint in with the older paint and get the same overall look because of how paint fades and ages.
Paint takes time to cure, so if you complete your touch-ups and are noticing only a slight difference in shine, wait another week or two until the paint has fully cured to see the final product.
If the touch-ups end up being too noticeable, your next best option is to repaint the whole wall/area.
When Should I Repaint the Whole Wall?
How long ago was this area painted and does this wall get a lot of sunlight, are two of the first questions you should ask yourself when considering touch-ups vs. repainting. The next question should be, what are my expectations? Asking yourself these questions will help determine your end goal.
The larger the flawed area, the more likely you are to see the difference in the paint on the touched-up spot. Even the smallest touch-up can prove to be difficult to blend as well. While touch-up paint can provide a quick and easy fix, painting the whole wall will ensure you get a flawless finish that will last longer and provide more value to your biggest investment.
When is it a good idea to skip the touch-ups and hire a professional to repaint the walls?
When the paint is over 5 years old.
When the wall has a large amount of damage or a big repair.
When the wall's flaws are in highly visible areas.
When the paint is chipping, peeling, or flaking off.
If the area in question gets a lot of direct sunlight you can almost guarantee that the paint on that wall has faded and matching it will be impossible.
When you want to change the color or sheen.
A good rule of thumb for the interior of your home is to get it repainted every 7-10 years. This will help you maintain a fresh, vibrant, and new look throughout your home. Some high traffic areas like hallways, mudrooms, entry, and bathrooms may require a little more love and attention if you see the number of scuffs adding up. These areas may require repaints every 3-5 years.
DIY vs. Hiring a Professional Painter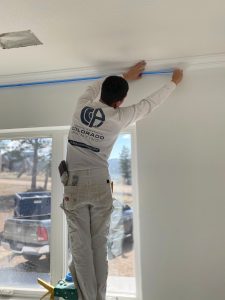 For professional, high-quality painters that specialize in full repaints like Colorado Commercial & Residential Painting, it can be hard for us to agree to take on touch up work. After years of experience, we know that the outcome isn't going to be what the customer expects. As a reputable and trusted paint contractor, we want to present a beautiful, value-driving paint project so that our customers can get that cohesive and flaw-free finish they deserve!
DIYing your touch-up paint is a great alternative if you want to save yourself some money. The project will likely cost you a small quart of paint at Sherwin Williams for $10-20, a paintbrush, and an hour or so of your time!
Not sure what the best option is for your scenario? Colorado Commercial & Residential Painting offers free onsite estimates here in the Denver Metro Area and we'd be happy to come and take a look. If you really want to get the most bang for your buck, plan to do interior painting in the Winter months. November through February is considered the "slow season" for painting and you will likely see the most flexibility and favorable prices for smaller interior painting projects with professionals like ourselves during that time.